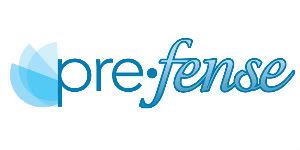 Imagine living in a world where little kids always had clean and sanitized hands....
Well, that's probably never going to happen, but I just found out about
Prefense
and it's bringing us closer to this imaginary world!
We all have our little bottles of hand sanitizers in our purses, but are they really safe for our little ones? I don't always feel comfortable putting alcohol on their hands all day long, but you know what kids touch, we have to do something!
I was so happy to learn about Prefense hand sanitizer.
Prefense
is superior to others on the market in many ways:
No alcohol! Prefense is made of natural ingredients and has absolutely NO alcohol in it!
It protects you for 24 hours or 10 hand washings! Save us so much time!
Prefense is non-toxic and safe for kids! It will not hurt you if swallowed!
Prefense is silica based which means it doesn't dry out your hands like traditional alcohol sanitizers. It actually smooths and softens your hands. You can totally see this when you apply it!
Prefense protects against staph, strep, E.coli, drug resistant MRSA strains, and more.
And if you didn't get convinced, here's another nice thing. Because "one spray lasts all day" the 1.5 oz Prefense Foaming Hand Sanitizer offers 120 applications, costing only $.08 per day, compared to $1.20 per day with alcohol hand sanitizers!! Yes, we're saving money!!
I love Prefense, the kids love putting it on, and I feel great knowing what I'm putting on my kids' hands.
BUY IT:
You can purchase Prefense products directly on their website: http://www.prefense.com/products/ at a great price compared to other retailers.
Or you can purchase Prefense on Amazon HERE.
~Giveaway~
Stacey at Prefense very generously offered one of Kids and Deals readers to win an 8oz bottle of Prefense which offers 640 applications!
Imagine that with one spray lasting all day, this one bottle of Prefense could potentially last you almost 2 years!
How to Enter: Very easy!
Mandatory Entry:
Leave a comment telling me you want to win!
Make sure to make separate comments, and enter an email address so I can contact you if you win!
Extra Entries:
Follow Prefense on Facebook.
Follow Prefense on Twitter.
Follow Kids and Deals on Google Friend Connect.
Follow Kids and Deals on Facebook.
Follow Kids and Deals on Twitter.
Post about this giveaway on your blog, facebook or twitter. (post link to your post).
Example Tweet: "~Giveaway~ Win Prefense Hand Sanitizer from @Prefense and @Kidsanddeals http://bit.ly/lOOvwz"
Tell me where you found out about this giveaway.
This giveaway will end on 7/08 at 10:00 pm. A winner will be selected through random.org and will have 48 hours to respond to my email. Good Luck!
Disclosure: I received a free product in order to provide a review, I did not receive any other form of compensation. The opinions are 100% mine.